25/11//2001
Thank you for your interest on this wishlist for CineStream. Please keep in mind that the following list is based on the experience, needs and expectations of several users, and that in a lot of areas I have expanded on these ideas to include ways I think these features could be implemented (which means there are a few slow loading images below of new or improved interface elements I've mocked up). The different wishes reflect a certain work habit. I compiled this list as a reminder for the development team at Discreet. Although it might appear that we all just complain about CineStream the opposite holds true: Most of the users are very satisfied with the snappy response and the crisp quality, CineStream offers for non linear editing (NLE). Note that the illustrations were created before Cinestream was in Beta (so they are based on EditDV). Note that some folk will think some features are just bloatware, and I know there is a heated debate over whether or not to allow a new 3rd party plugin format to be used in CineStream, ...these are all issues to be taken on board, but I have listed all the most popular requests so that the development team at Discreet can get an idea of the views of its Cinestream users. Please also note that there are numerous references to other Non-linear applications, in some cases this was the best way to explain a good (or bad) implementation of a requested feature.

BLUE text below indicates a new feature added or modified since the last time this list was updated.

Audio
Rubberband Audio Levels. This is the BIGGEST request left on the wishlist now, and the number one complaint about the software (I'm pretty sure this is a priority for the developers at Discreet for the next big release), ...the audio engine needs to be rewritten to accomodate realtime rubberband audio level adjustments. It is critical to be able to adjust variable audio levels on a number of tracks and hear the result without needing to render. Basically if you could also adjust the interface, effectively taking the sound fade filter we currently have to use and making that permanently part of the timeline interface (maybe as a flipdown for each audiotrack, as the waveform is at the moment, but have it available there as default, ...it is an unnecesary pain to have to apply the sound fade filter all the time (no doubt you can get ideas from Discreet's Edit* on ways in which to implement this). I know there may be problems due to systems resources on the different computers (i.e. the usual constraints about how many audio channels a computer can play at once before it starts to struggle, dependant on the CPU, hardware, etc), and I also understand that you will probably still have the problem of only being able to output one stereo audio track thru firewire. This is fine, keep the AP track there, even if we still have to render to it, its not a biggy. The only thing we crave is the ability to be able to get realtime feedback on how my mix is going WHILE we're editing, with realtime level controls, if we have to render out to a single stereo track for final output to DV I don't mind at all and I think most users would be fine with that too (we just want that realtime keyframeable audio mixing ability that every other NLE system has).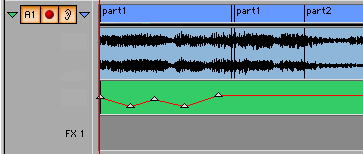 Audio Output via firewire. If possible engineer things so the audio can play out the firewire all the time with the video, if someone is using a DV device for playback during editing. The sound delay preference we currently have is good, but it would be good to have a preference to send both video and audio out the firewire, and allow scrubbing, when using the LiveDV component of CineStream. I say this as at the moment with the sound delay pref setup, the scrubbing feature becomes almost useless as it will be how ever many frames out of sync (whatever you have specified in the pref for the playback delay).
Fix Current Delay Bug in Audio Scrub. Okay, if the above "audio out firewire" feature is not an easily implemented option, how about this, fix the audio scrubbing so that it is usable when an audio offset pref is set. Surely this can be tweaked so that it ALWAYS has a delay of ZERO, ...i.e. that the audio delay preference does NOT affect the scrubbed audio, only the audio when in full speed PLAYBACK mode.

Timeline waveform display enhancement. It might pay to take a leaf out of Apples Finalcut Pro for this one, what it seems to do is pre-render the audio waveform (it has a preference for doing this, it saves the waveform data in a scratch folder) for each audio clip, ...that way there is no delay displaying the waveform when you call want to use it as a guide for editing in the timeline, as it just loads the small image file straight from the harddrive, ...unlike CineStream where things grind to a very slow crawl as the waveform is constantly redrawn everytime you do something.
Audio Filters. Maintain the ability to use filters on audio clips, but open it up to be able to use RTAS or one of the other standard 3rd party audio filter providers (I think this is important as it means that anyone who wants special features can buy what they need from the many established 3rd party venders already catering for that need in audio applications, and it means you guys will not have to waste time and energy writing your own plugins to satisfy those who crave all these different audio features, ...more on third party filters later). Perhaps include some basic audio filters such as EQ. The top filters that most people would find helpful would be such things as EQ, compresser, normalize, de-esser, noise gate, reverb (the first 3 in particular).
Capture Separate Left & Right Audio Tracks, so a stereo source pair (such as the Left & Right channels from a camera, one of which might have camera atmos on and the other of which might have lapel or boom mic sound on it), can be placed automatically on separate audio tracks (A1 A2), each with their own realtime (no render) pan and level rubberband-line controls on them.
Ability to Capture All 4 Channels from 12bit Audio DV Tapes. I don't know if the firewire protocol allows the transfer of all 4 channels of 12 bit sound at once or not (indeed I don't know if the Quicktime DV wrapper allows for video with 4 audio tracks), but if so, the option to capture them all in one capture hit would be good. Also if the above separate tracks feature is implememnted, it would be good to allow each of these 4 tracks to go onto a separate track too.
Sound Mixing Palette. Okay, we've got the audio meters, which is all good, now to take it to the next level. This is an idea borrowed from the likes of Media100, Avid and also Premiere v6. The way Premiere implements it is probably one of the better ways, being able to do a mixdown and have the sliders data turned into keyframes on the timeline. The way I see it is you could have a mixer palette (see illustration for a basic version I have cobbled together using Bias Deck's mixer sliders as a basis), from which you could record enable a few tracks, cue up the start point on the sequencer timeline and press some sort of RECORD mode so that the video plays down and by adjusting the mixer sliders you hear the audio change in level. This information is translated into level data and placed as rubberband level nodes/keyframes on the timeline. I would not put too many source channels on the mixer, 3 or 4 max, just have the ability to select what audio track the slider is going to represent (in the illustration I have used pulldown slection boxes for each track name). The collection of what looks like 3 buttons at the right bottom corner would just act as one button, hitting it toggles from MIXDOWN to STOP.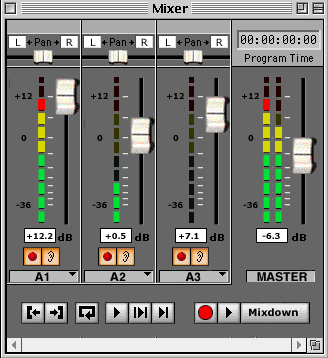 Better Audio Scrub. Have it setup like other NLE applications so that you hear audio when you jog, shuttle, scrub, play, etc (i.e. no matter what the speed you can hear the audio, ...the only preference for this should be whether you want sound scrubbing on or off).
Audio Punch In. The ability to watch the video sequence play down and record a voiceover onto an audio track in the timeline in realtime (handy for doing voiceovers where it is critical to have the narrator say things in time with visual cues).
Offsets For Audio Meters. The audio meters in CS3 are great, but it would be nice to be able to enter a full scale offset in db. For example, if you want to keep levels below -12db to match levels with an analog deck, enter an offset of -12db and that would become the "zero" level of the meters. As is, if you are keeping levels below -12db the resolution is very coarse.
Editing Enhancements For Better Workflow
Timeline Trim Enhancement. It is handy using the COMMAND modifier key allowing you to drag out (alter) the duration of a clips audio track separate to the video, handy for very quickly creating split edits (one of the things I like in Media100, you really don't need to use trim much at all, those who use Avid a lot will fight for using trim all the time (each to their own), but you can actually be more quick (and therefore efficient) if you use the timeline approach I've found). As it stands at the moment though this feature is almost unusable due to the fact that if you alter an audio clips length (while not altering the duration of a video clip at the same time), you have all the audio clips ripple to move and accomodate the changed audio track, ...but the video track stays unchanged, meaning that even locked audio & video clips become out of sync. This is a HUGE pain in the butt!!! May I suggest either adopting the way Media100 works (which is basically in overwrite mode by default when lengthening clips and where clips are shortened it puts black filler in, ...so basically no rippling or out of sync problems occur, ...indeed this is the way the filters currently work in CineStream, if you lengthen or shorten them they DON'T ripple the filters to the right of them), OR maybe do things a bit more intelligently and have things set up so that when you are in insert editing mode things work as they do now (with rippling occuring) but when you are in overwrite mode it won't ripple a thing (working just like Media100, overwriting any adjoining audio clips if you lengthen a clip, and inserting black filler if you shorten them). Of course have this applicable for not only audio track editing but also video track editing (it is probably the biggest annoyance I have with the software at the moment, apart from the lack of realtime audio rubberbanding). Part of this functionality is already in EditDV/CS when you use the SHIFT-CTRL-drag (in windows or SHIFT-COMMAND-drag on Mac), but this is clumsy and doesn't allow you to trim over the preceeding or proceeding clips. Being able to just do the CTRL-drag combination as suggested would be a real timesaver. Timeline trim enhancement is a special case of the general problems with filter and clip linking, trimming, and the downstream effects of unrelated edits, ...to do it the best justice possible it might pay to open this topic up for serious discussion on the user list forum as many users have very specific feature enhancements and workflow tweaks that would benefit the application (to squeeze even more editing speed from EditDV/CS in timeline editing/trimming modes). At any rate, for an explaination of the quick trimming feature as I have discussed above (one which I find very effective on the M100 platform) see the illustrations below.


Frame by Frame Nudging of Clips. The ability to nudge the current timeline selection one frame at a time up or down the time line, without having to zoom in to the extreme. Useful when aligning shots from multiple cameras. Nudging keyframes would also be helpful.
Autosave.have a preference to set whether Cinestream autosaves or not, as well as the ability to set a time for this to happen (e.g. every 10 minutes, 15 minutes, 30 minutes, 60 minutes, etc). Also have a preference for setting a number of archived saves, so that the application doesn't save over the top of your old edits all the time. Basically just set this up so that you can specify, for example, 12 archived versions of the project, then instead of EditDV/CineStream saving as it currently does having for example PROJECTX and PROJECTX.OLD, you would have PROJECTX.OLD1, PROJECTX.OLD2, PROJECTX.OLD3, etc (and have it write over the first old file when it reaches the upper number specified in the preference (e.g. 12) and slowly go through again (that way if a user wants to revert to a particular copy, they only have to list the files in the directory using time/date as the sort criteria upon loading it back in).
JKL keyboard editing. This is a professional feature that started on Avid and has now crept into a few of the other NLE systems about the place (including Finalcut). Basically it means that your keyboard has these keys mapped out, J = reverse playback, K = stop/pause, L = forward playback. In the Avid world, clicking numerous times speeds up playback of the clip with each subsequent click (Finalcut has fully implemented this way of working in version 2, including the multiple speeds both in forward & reverse playback). It is a handy keyboard layout and the ability to use those keys in that manner means you can virtually eliminate the need to use the mouse at all while editing. I realise that any reassigning of keyboard shortcuts could confuse and annoy users who are familiar with and happy with the current assignments, so this should probably be set as a preference.
User Definable Keyboard. Just taking the above feature request for JKL, etc a bit further, it would be handy for those users who use other systems at work, etc, to be able to come home and have the EditDV/Cinestream keyboard set-up to mimic the keyboard layout they are used to (if this was saved as a file that could be transferred to other EditDV/Cinestream systems and loaded in, it could be handy for multi-user situations such as Education facilities, as everyone can have their own custom setups). Another handy thing would be the ability to assign our own frame forward/back values to the buttons that jump you forward or back 'x' number of frames (currently set to 10 frames each time).
Ability to resize the source/program monitor window. The size they are now is perfect for larger monitors (or multimonitor setups) but for those of us who use EditDV/Cinestream on a laptop from time to time it can be a real pain juggling screen real estate. It would be handy, even if we can't have truly interactive rescalable monitors, to at least have one smaller sized option (small, medium and large preset options, setup in the preferences would be perfect).
Replace Edit function. Good to be able to replace a clip in the timeline AND retain the transitions that were previously there (i.e. have it so you just click on the clip you want to replace in the sequencer (to select it), set an in & out point in the source monitor with the new clip you wish to insert in that sequencer clips place, then hit the REPLACE edit button, ..and there you go!). It would also give access to another way of trimming clips, as you could double click on the clip you wish to change the duration of in the timeline, edit the clip in the source monitor, then hit replace to put in the new duration version of the clip.
Replace Footage Command. So if you make changes to a graphics or animation which has been imported into CineStream (i.e.you've made changes to the original graphic or animation file in After Effects or Photoshop), you can select the clip in the bin you wish to replace with the new version, select this function and it will bring up a file requester asking which file you wish to replace that source clip with (it should then echo these changes in any of the sequences you have used). This is a handy feature in After Effects.
Insert Favourite Transition. Support for auto insert of a favourite transition (of the users choice, usually a dissolve, but it would be good to allow a preference to set that up). Set to a shortcut key. Another nice idea is being able to do an edit with that transition added to the head as its inserted into the timeline (maybe even a radio button checkbox in the monitors window to select whether or not the fave transition is inserted automatically when the edit is applied, or see below item for a further idea on that).
Last Selected Item Memory - have Cinestream remember the last item selected in requesters such as the Filters/Transitions dialogue. So if you were to select a SOUND FADE filter, drag it to the timeline, then close the Filters/Transitions window, have it so that the next time you bring up the Filters/Transitions window it remembers the last state it was in, therefor it opesn with the FILTERS option open and the SOUND FADE filter already highlighted. At present it defaults to the first item in the list.
Drag & Drop Editing. One thing that people I have talked to who like Finalcut Pro is the way you can drag clips from the source monitor, to the program monitor and it brings up this overlay list of types of edit you can perform, and you simply drop the clip on the type of edit you wish to perform, and there it is. For pro editors this isn't really a "must have" feature, but talking to the enthusiasts and those new to editing, it is a feature they really do like. I know in Cinestream we can use the CONTROL+click+drag technique to bring up a menu with options (overwrite video here, overwrite video & audio here, insert video here, insert video & audio here), but it could be nice to somehow give the options that Finalcut has, ...not wanting to copy their idea but maintain a similar feature maybe it could be implemented in a drag and drop fashion to a editing type palette (maybe you have this edit palette just floating on the screen and you drag and drop clips from the source monitor onto it, ...or maybe it could be an optional bar added to the bottom of the monitor window?). As I say, this is not a big request feature, its just a feature that people who have Finalcut have told me they like, which EditDV/Cinestream doesn't have.
More Bin display options. A new Bins preference would be good. One that enables you to specify a user definable list view, maybe have checkboxes so the user can just select the data they want displayed. Some further options as to what data can be listed (and sorted through) within the bin would be good (additions such as Date & Time and Audio Sample rate would be handy). For example it would be handy if I was able to make a custom bin view with tiny thumbnails plus mark in/out points, duration, tape number, date, and notes.
Mark used clips. in list view add a checked column, which indicates with a tick, cross or whatever, if a clip has been used in a composition/timeline/program, this way you could click the title of the column to have the bin re-organise to sort in regard to whats been used and what hasn't. When in icon-view bin mode, have the used clips highlighted or the name underlined with a distinct colour. (this is a handy feature when you have a lot of source clips and are getting to the end of a long project, you want to know quickly what shots you have not used). I know this might be hard to code, but a user has suggested that maybe the thumbnail view of the clip could have a miniature timeline view of the clip (sorta like skyview), showing different coloured sections that have been used in the program already (handy for those long clips where you might have used small sections from right along the duration of the clip).
Source Monitor Zoom. The ability to zoom in on the timeline of a source clip in the source window. It's not a problem for clips a few seconds long, but now with long file capture a single source clip may be over an hour of video, which makes quickly navigating to a new inpoint a bit of hit and miss (lots of playing down and frame by frame advancing required). Zooming in so that you are navigating around a small area of the source timeline, would be great, ...maybe have it so you set in and out points roughly in the area you're interested in zooming in on, on the large zoomed out source view as we have it now, then have a "zoom in to marked" button (key) coupled with a "zoom fully out" button.
Thumbnails included on the source clips in the timeline (have as an option so on slower systems it won't drag down performance). The ability to see a small thumbnail placed next to the name of the clip in the timeline would be a handy addition for fast navigating (see illustration). I guess the easiest way would be to have the thumbnail generated from the poster clip (as defined for icon view of the clip in the bins), but it would be a lot better if the thumbnail could be generated from the first frame of the edited clip in the timeline (this need becomes important if you are cutting down a long source clip). Maybe you could even have 2 icons per clip (depending on zoom setting of timeline), sone for the start frame of that clip and one for the end? A few folk would like the option for a filmstrip style representation of clip thumbnails in the timeline (like a strip of film along the timeline, giving more frames as you zoom in on the timeline), but I know how this can bog a system down, so I'm sure most would be happy with the first option listed. Perhaps the thumbnail preferences from RotoDV could be borrowed?

Sharing of Bins & Sequences. It is good that Cinestream now has support for multiple sequence. Can I suggest one feature here, ...the ability for an open project to load up bins and sequences from another project. The way I see this working is that it scans the Project info from the second project and gives a list of the bin names and sequence names contained there-in, you then select from that list what bins and/or sequences you want, and then it adds those to the list in your current project, ...making them accessible to the current editing session. Its good to be able to share bins and timelines between projects. Another less than ideal way (but useful in the interim) might be to add the option to export logfile (as one of the EDL types in export EDL), or to allow the importing of CMX3600 style EDLs into a project (these are a good solid EDL which works well in most non-linear systems (both audio and video) I have swapped EDLs with. Alternatively change the file format as stated below.
New Project File Format (to allow for bin & program sharing as well as speed save times). The most elegent way of utilizing file information that I have come across is the way used by Media100 and some other NLEs. You have 3 file types that the application saves. A BIN file (which contains all the clip info for that particular bin), a PROGRAM file (which saves information about the current timeline sequence), and a PROJECT file (which is a list of all the BINs and PROGRAMS you are using in the currently using in the current project. The beauty of this is that you can load BINS and PROGRAMs from any other PROJECT into the current PROJECT. It would speed save times too as each file gets saved only when it has been changed (so some bins, some program files and the project file might not change at all, just the program & bin you're currently editing, ...which has to mean speed savings). There are a few downsides to this, one is I guess it would require a huge overhaul of the way EditDV/Cinestream works, second is that the collection of files would take up more room on the HardDrive than the current single Porect file (it could really become messy if multiple backups of timelines is implemented too), and third is that things would have to be changed so that the composition files still worked as they do now (i.e. if you drag a composition file from the PROJECT window and placed it on the timeline, it would appear as one continuous clip, yet maintain its editable nature at the source). Just an idea anyway.
Cross Platform File Compatibility. Whatever file format the project files are, it would be good if they could be shared between Mac & PC versions of the software (it would help you too when putting together the tutorial sections on the application CDs as only one set of files would need to be produced). Is the Radius DV Quicktime Codec the same across the platforms, as it would be brill to be able to take a firewire drive with a project file and source media from one platform (say a Mac Powerbook) and connect it up to another (such as your home Tower PC) for finishing.
Layer Changes. Ability to change the order of the layers (maybe borrow from RotoDVs layer menu, having move forward and move backward commands, linked to keyboard shortcuts). Also it would be good to reverse the current video track layer analogy (at least have a preference that allows those who want to to do this). Instead of new layers stacking with the foreground elements on the bottom and back most layers at the top, reverse this trend by having the background layer at the bottom and each subsequent layer on top of that (like in Photoshop, After Effects, and most other applications), the current way around makes things a little confusing when you are used to other multilayer applications.
Timecode Offset. The ability to set an offset if you suspect your tape timecode is out by a frame or two (also if you have dubbed offline material (film or video) to DV, that has a burnt in timecode window (Timecode in picture, TCIP), it enables you to manually set a timecode offset (so if your reference burnt in timecode said 12:01:20:03 but your DV timecode was 00:00:05:00, you could set an offset of 12:01:15:03, and every clip you captured from then in would have correct timecode as per the reference timecode (invaluable for offlining!).
Tweaks to speed dialog. This is one of the many requests from users, and one I haven't really delved into myself but it seems like a reasonable request so I have included it here. You can set the speed to less than 1% with fit to fill, but then can't change it. It goes away too early. It would be better to let it hang about like the resize palette in Freehand.
Markers for In & Out points in source monitor. Indication in source monitor of the in point frame and the out point frame. Those who have used other edit applications will be familiar with the little "L" and reversed "L" over the bottom corner of the source screen in those programs, that indicates when you are on the in frame or out frame (a handy visual guide).
The possibility to select clips in the bin in thumbnail mode using a rectangle selection area. Today selecting is cumbersome once the bin became cluttered.
Storyboard. This is something that has been added to premiere in v6. Some users, especially new users would find the ability useful (being able to rough things together in that form then have those clips automatically put into the timeline after they've finished planning). I can see a couple of professional uses for this feature, ...one which I envisage working slightly differently to Adobes usage of it, ....is if you were to have it so that you could also take the video clip data from the timeline and place in back into a storyboard view (and add text notes to the bottom of each clip, etc), then be able to print it out, ...it could become quite a handy tool for advertising agencies who might be pitching for a job using animatics (rough mock shoots they've done using a cheap digital camera to display their concepts). Premiere has another good use for its storyboard feature, you can order the clips you want to use (with an in point selected), set up some markers in the timeline, and with one key press get it to lay all those clips out on the timeline conforming to those markers (i.e. each marker has a new clip starting at that point), ...this is handy as you can set up a series of markers on the beats (see below about markers) to music, then get all these roughly ordered clips to automatically conform to the markers, thus having the clips cut together in time to the music!!!
Markers. Can I suggest we introduce a second type of marker while maintaining the current clip based ones. The new ones would be placed onto the timeline bar (much as the IN and OUT points do now, ...this idea is borrowed from Media100 & Adobe Premiere). Change the assignment of the "M" key on the keyboard so that hiting it when in the timeline (even when playing down) causes it to place one of these new markers on the timeline bar. maintain the current modifier key combination (command-M on the Mac) to produce the current clip style marker. With the new markers, add the ability to have at least numbers assigned to them (alpha numeric tags would be nice, but just having them automatically generate unique numbers would help for navigation). Heres an even more advanced kind of idea for using markers (again with music), could we maybe have it so you have a function that allows you to set an audio peak value and have it then scan the timeline placing markers where-ever a peak occurs (an idea stolen from using motion math in Adobe After Effects, in that app it is easy to assign things to happen when certain amplitudes of sound are reached).
Grid. Okay, staying with the cutting to music theme for a second, the option to set up a grid on the timeline with wich to snap clips to, ...as a guide for cutting to sound - as most music is based on a constant timing grid, one has only to determine how many frames are used per beat, set the grid option and - voila - cutting to the beat is less cumbersome.
Multicamera Editing Mode. A way of automating the process of having 2 or more cameras in sync and cutting down to one new final layer. Discreet Edit* has this ability so maybe this is a feature we could inherit from the big brother application? I understand that we can only really have one DV stream playing at once, but what would be good is to have a multicam window where clips on V1 thru V4 (for example) are represented with little monitors in this window, and there is another window representing the final mixdown track (V5 for example). Playback remains with the final track (v5) but you can stop at any point and step through time with each of the little windows representing the different cameras, stepping along with you (in the same sort of fashion as slip & slide, and trim edit monitor modes work at the moment), and allowing you to select an in point and which camera you now wish to cut to. Maybe this could be set up as a special filter thats applied to the topmost video track in the stack (the filter doing a quad-window split). Even if this wasn't a realtime playback solution, just having the ability to select one layer, play it down, then stop, see where all the cameras are at on this one quad view, and step along the timeline seeing each camera move in the quad view, it would be handy). The ability to see this quad view previewed using liveDV to a video monitor (without hitting the snapshot key) would be good (see later for the filter preview out firewire request). The ability to select a camera and nudge (move it in single frame and possibly 10 frame increments along the timeline, seeing it move in the multicamera view) would be great for helping to sync cameras up (i.e. if you had a clapperboard snapping shut in view of all cameras at the start of a shoot, it would make syncing them all up at the start easy).
Playback Of Frontmost Video Track WITHOUT Having To Render VP - I believe that in Edit* v6 you can have video on different layers and when you hit play it will play whatever the most foreground video element is at that point in the timeline. In other words, if you had a longshot playing away on V1 and then placed a close-up on V2, if you pressed play, the timeline would play down showing V1 until it got to the clip of V2 then it would play it for its duration (since it is the frontmost layer) then cut back to V1 after that clip ended. This would be a handy feature (of course we can do this now but it means rendering down to the VP track first, a bit of a pain for something that surely can't be that hard to implement). This would be useful for a multicamera edit session (if we don't have the above listed multicam feature), as each camera can have its own Video layer and the unwanted sections can just be removed to show the layer underneath as required (and played back in realtime for quicker cutting of mulitple video streams). This would HAVE TO be set up as an option (a preference, menu selection (radio or checkbox?) or a shortcut key combination for invoking this playback mode), since of course a lot of the time you want to just be able to select a single video track from a stack and play that track down.
Advanced Clip Search & Media Management.Some form of search capabilities, allowing to search through bins and sequences for various clips. Allow search to contain a couple of different information fields (criterion), so it can search and order using both (i.e. tape number then timecode for example). See illustration for an example:

A basic Find utility that searches the bins in the current project would be a very good start, but in the example above I have used the Advanced Find from MS Outlook Express as a basis to produce a more powerful media sifting tool. I have changed the radio buttons, etc, to make more sense in a video environment. CatDV already allows huge functionality in organizing and searching for clips across projects, so it would be kind of nice to have some of the same abilities within the software. As you can see above, I have made it so that you can search All Projects, All Bins, or select a specific named Bin from the current project from which to perform the search. You can then type in a name, tape number, timecode, etc (in the above example where it says CLIP NAME, that pulldown selector would basically mimic all the fields available in the list view for a bin, ...again I would like to stress that it would be very handy to add time and date to the fields available in that view), ...plus add multiple criterion to help narrow a search (this becomes important if working with large numbers of clips, ...searching all projects would do this, ...may I make the suggestion that searching all projects only searches Cinestream/EditDV projects within the current "Project" directory, to simplify things and allow people to only place those projects they wish to search in that same folder). This search would then bring up a list of clips, in the traditional List bin view we are used to (although it would be a separate window, not a new bin, ...but the bins list view settings would apply, and multiple criterior would ensure the order in which things are listed (e.g. clip name then tape number then timecode, ...or whatever you specified in the search), as well as the standard list fields of a standard BIN it would have a fields that said which Project/Bin that clip came from. From this view you should be able to click on a clip and get it to come up in the source monitor for editing, plus you should be able to select multiple list items and hit a button which puts them into a new BIN (good for collecting a lot of shots from a big project or from multiple projects, ...for clips from other bins in the current project, secondaries would be made conforming to the source medias total duration). Below is a basic idea for the resulting report screen produced by doing the above advanced search.
Additional Clip Management. Also maybe we could have a new command that allows you to see where a particular clip in a bin has been used. Simply select a clip in a bin then invoke this command which lists a sequence name with a program start point, and source start point for each instance of that clip being used, ...maybe tied into the Advanced Search report screen feature listed above, from this list the user should then be able to click on one of these lines and the play head should go to the point in the appropriate sequence timeline where that instance of the clip occurs (maybe also have a quick find feature which just finds the first instance of that source clip being used and goes to the spot in the timeline, selecting/highlighting it, ...and have a FIND NEXT so it'll go to the next clip on the timeline, etc, etc). Also the reverse should be possible, the ability once a clip has been clicked on in the timeline and brought into the source monitor, to invoke a command to take you to where that clip resides in whichever bin it came from (maybe highlighting it in some way).
Plugin Interface For Using External Video catalogue/logging/library System. Maybe work with a 3rd party developer, such as SquareBox's CatDV, so that you can offer plugin support running with their software, as a possible help to better media management (although I think we all would love EditDV/Cinestream to have its own advanced media management capabilities, as listed just above, like other DV NLEs out there).
Misc Timeline Tweaks: Timeline update after the cursor scrolls out of the frame during playback like Media 100. Numeric timeline cursor control like Media 100. Type in a length of time, hit enter and the cursor jumps by that amount of time.
Single Easily Navigated Preference Dialogue - often it is hard to remember where all the feature presets lie, and you waste time opening and closing each preference window in turn until you locate the setting you want, it would be nice to have one dialogue window which allowed quick switching between the different areas, ...perhaps with forwards and back navigation arrows so you could cycle through all the preference windows quickly, making for a very speedy way of optimizing the settings of your software.
Interface Revamp - well, actually this is a plea more than a wishlist item. Now that CineStream is part of Discreet I realise that there is the likelihood that the interface could change to stay in keeping with the Discreet productline look. Please don't change the CineStream interface to reflect Discreet Edit's look, ...if anything, Edit* could benefit from looking at the way CineStream is laid out (okay, so CineStream might not have a flash modern 3D look to its GUI but it is one of ther best non-linear interfaces, pro or amateur I have ever used, it fuses some of the best features of Avids Media Composer functionality with the likes of the more drag & drop style of editing that Media100 & Premiere work on). If you work on the interface please don't lose the great functionality it has now (and please don't change the icons, okay, this might just be because I use Avids, but the icons are so much more industry standard than those of Edit*, ...the way things are now you could teach folk in Tertiary Institutes to edit on CineStream and they should be able to walk into an Avid or any other NLE environment and quickly find their way around whatever non-linear system is there (by all means make the interface hotter & more modern, but never substitute looks for functionality).
Bring Back the EditDV Name - okay, another silly little request more than something that will bring editing nirvana to all who use the application, but most users seem to prefer the old name the pre-Media100 application was called, that being EditDV, ...and as a marketing tool it makes more sense to have the old plain and simple EditDV name than CineStream (and its in keeping with Discreet's high-end editing application, Edit*, ...surely EditDV* would be a good family name to have? ....sorta says it all really, much better than the confusing Cinestream name).
Capture, Import & Export Enhancements
Batch Capture - place an option in the batch capture dialogue which allows you to capture source clips or just the trimmed clips in a sequence (with handles). This would save having to go the extra step of Create Log from Program, before entering into a batch capture. A lot of us tend to dump big chunks of video onto our harddrives, cut that into a sequence, then dump the media, and then want to capture just the media we have used in the program itself, ...I mean its not a biggy having to go and do the create log from program step, but it would be nice if it could be bundled up into the batch capture dialogue to save a bit of time, and also make it a bit more intuitive for new users. Also it would be nice if the handles setting was taken from out of the capture preferences and put into the batch capture dialogue. See illustration above. Note in the illustrated example, the checkbox for source clip capture, ...if it is unchecked it means the clips present in the program will be captured with handles, if it is checked the whole source clip will be captured for each program clip. Maybe have that lower box greyed out unless the program or selection checkboxes have been checked (selection being a selection in a sequence that is, not a selection in a bin, in which case the options should still be greyed out).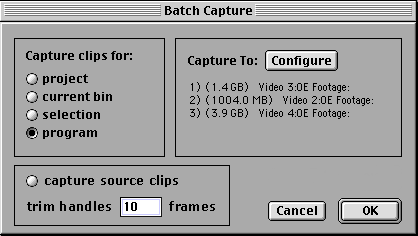 EDL Import - allow for the import of EDLs as well as the export we already have.
Timelapse/Stopmotion Capture - I believe development on MotoDV has been stopped, in which case can I suggest that CineStream borrows what to me is the most important and useful feature of that application? That is the timelapse capture mode. I use it ALL the time for providing scenics & backdrops for graphics for the TV networks over here, ...they love the results and I know a few other people in the industry here who use it in their work too (one guy said his clients thought he had shot it on film this one particular sunrise shot was so good). It is a VERY useful feature and one that I think has been overlooked by the majority of users out there. It would be great to have that ability in the capture window of Cinestream (to capture one frame every how ever many seconds, etc). Also there is another feature which shouldn't be too hard to implement using the same coding (at least I am guessing it would use similar coding) and that is to add the ability to not only capture at timed intervals but also capture when a key is pressed such as RETURN). Why I ask for this feature is that it would suddenly open the application up to a whole new market, that of the stop-motion & claymation business. I am unfamiliar as to how MotoDV saves the timelapse files at present, but if you were doing stopmotion you would need to make sure that Cinestream was saving a file as it went, and just appending the quicktime as it went along (or at least have a temp file stored somewhere) this is just in case the program crashes, ...anyone doing claymation and having that happen AND losing all their work in that session would not be very happy at all, so if some form of on the fly saving can be done that would be all the better. If it could also be linked to a USB trigger of some type too that might be handy (I'm just thinking people might wire up USB mice as triggers for capture from their set). See illustration below for the kind of idea I'm going for here. So under the Modes pulldown selector you would have 3 options, REAL TIME, TIME LAPSE and a new item called something like STOP MOTION (for the keyboard triggered single frame capture to an animation file mode).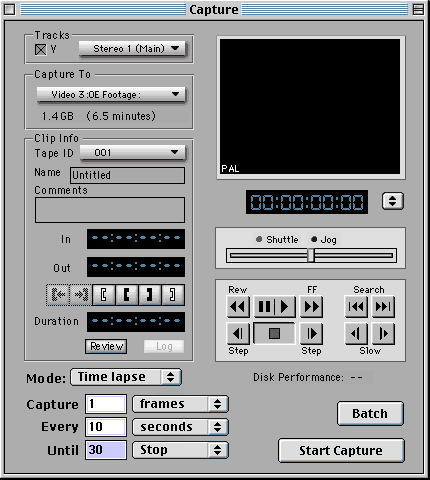 Consolidate Media. Again on the subject of trimming down media to just what is on the sequence timeline (plus handles), if we could have a consolidate feature (like in Avid) that would be useful (even if it takes a while to go through and recompile then save new shortened media files, as long as it is quicker than recapturing those segments it would be a very handy feature). To work effectively it should be made with the option to automatically detach the source media and delete it after it has made the new sequence clips that use that source media (just to save harddrive space).
Device Control For Output. It would be nice to have the device controls we use in the capture window available in the Print To Tape window, to allow us to cue tapes up for a rough ASSEMBLE edit to tape. I see that some DV video devices (such as the Canon XL1S) offer insert editing functions, are these accessible via the firewire protocol? That would be a good feature to tap into.
Correction for Canon XL1 audio capture. Okay this is an old request from the Canon camp, one of those things that affects only a small percentage of the users, but still if it could be implemented easily I'm sure Discreet would find a lot of friends in the Canon crowd. What they would like is an optional checkbox preference, like within Finalcut, to auto-resample the audio back to correct 48khz (since Canon users have to suffer longer clips having audio clips becoming out of sync with video, granted that the newer cameras seem to have been fixed in this regard).
Other Codec support. There has been a bit of discussion lately on the list about Apples new DV codec, that its quality is pretty high (and that it is optimised for altivec rendering, etc). Depending on how easily this could be implemented, the ability to use AppleDV Codec and other 3rd part codecs (such as the Promax low resolution one) could be handy for some users.
Background Rendering. Ability to have the VP track rendering away while you continue to work further down the timeline or on another sequence (have as a preference, so slow machines can disable it). Set it up (have as a preference setting) so that the system can borrow unused processor time to render effects & filters, to enhance productivity without interuptingworkflow.
Revised Autoclip Capture. The new all clips, auto capture system is good, but a better way of implementing it would be to allow people to capture in large source clips (i.e. a whole tape) then let a routine similar to that in CatDV, separate that clip up into secondary clips (this would cut down on wear and tear of the decks continuously cuing up, ...hard drives are cheaper to replace than decks after all). Clips which can in turn be renamed, ...maybe have it so that you select the large source clip, a requestor comes up and asks which bin you wish to place the secondaries in, and then as it breaks each clip up it shows its thumbnail & prompts for a name, ...or have the option of just letting it use the source name for the base (e.g FRED) and all the secondaries are just numbered using that as a start (e.g. FRED1, FRED2, FRED3,...). Even better would be if the clips could actually be physically split up into new media files with the large source file being deleted (using the same technique that would be required to consolidate media in the earlier requested feature, ..i.e. the ability to take a source MOV file and trim it down to a new size, getting rid of unwanted footage & freeing up space).
Name Requester For Secondary Clips. When making secondaries it would be good if we could have a rename requester come up for the new secondary clip, to allow us to enter a more descriptive name (instead of having to select the clip and manually change the name).
Shortcut Key For Exporting - it would be useful to have a shortcut key allocated for the quicktime export menu item, ...mainly useful for if you are trying to export a lot of still images from the timeline, at the moment you have to do a lot of mousing to get the job done.
MPEG export support - most users are starting to think about distributing their final projects on DVD or mini-DVD (DVD formatted CDR discs), indeed this is probably a more common end medium than webstreaming for DV editors (from my experience most DV editors end up mastering back to DV as their final product (or to other video formats), MPEGed video would be next, then webstreaming & standard compressed CDROM video files for multimedia use would be last). Most DV editing systems offer some form of MPEG1 & MPEG2 compressing (usually by a third party plugin or LITE application). Could the next version of Cleaner LE maybe have expanded support to include full frame MPEG1 & MPEG2 (maybe without support for variable bitrate or something so that there is still that incentive to upgrade to the full version)?
Custom Leaders & Trailers - the ability to choose a custom leader or trailer in the print to tape dialogue box. Maybe you could have this as a specially named Quicktime movie (referenced or self contained, with a distinctive name such as LEADERMOV & TRAILERMOV) thats saved in the CineStream Application folder. Basically meaning that the user can make up a beginning for their programmes, something to their own tastes, such as the classic 1 min of bars, 20 seconds of ID board (altho usually you customise this for each job), with 8 second countdown and two seconds black. This would be very handy for people who use the same start sequence over and over again, and it means the user can totally customise it to their own tastes.Keep the normal bars and tone options for front and tail, but adding the custom top and tail movie options would be cool.Also include on the distribution CDROM goodies such as PICT/BMP files for various types of colour bars (PAL & NTSC flavors) plus a 1khz tone (aiff/wav) 10 seconds would be enough as you can just loop it, ...this is just to allow users to make up their individual bars and tone based leaders.
Enhanced Looping Video Output Options. It would be good if you could specify space between loops as a different setting from the head and tail settings, also it would be really really handy to be able to set a defined number of time the program will loop (maybe a numeric input box, that if left blank will just keep looping until stopped) would be really cool if this had an associated info box that did a simple calculation (based on the programme length thats about to be outputed) to show you expected final duration (i.e. if you had a 2 minute programme and you typed 7 in the loop box, with no headers, loop filler, or trailers, it would say 14 minutes next to that setting box (that would be handy as you could estimate how many loops you could get on the size tape you're looking at and have it finish perfectly (good if combined with the "use custom trailer" wishlist request).
Option to Keep Thumbnails of Offline Material in Bins. Have an option when you detach media in EditDV/CineStream, to keep the thumbnail references in the project (maybe have them marked in some way so you know that the media is offline, as just the clip name being italic might be a little subtle). Maybe when you go to detach the clip media, it could ask you whether you wanted to retain the thumbnails, if you hit no it just does what it does now (putting the "on tape" placeholders in the thumbnail bin views) and if you click yes, it could generate these to a new folder saved where the project file is located on the system (just to keep everything together, ...also have it so that if you delete the thumbnails from the system at a later date, & EditDV/CineStream doesn't find them when it loads the offline project, it'll just come up with the standard "on tape" placeholders). It just would be a handy reference, and memory jogger when searching for particular footage to recapture.
Filters,Transitions,Effects & Rendering
Support for further 3rd Party plugins. Okay, EditDV/Cinestream has support for Quicktime filters, which is good, but the problem is there are not that many companies developing that kind of filter (since EditDV2 was introduced and started using these filters, have there actually been any new ones produced? Pixilan seems to be the only big plugins maker to have produced anything for quicktime, ...some nice transitions they may be but plugins open up such a huge variety of possibilities of which transitions are but the tip of the iceberg. Sorry to say a bad word here but 'Finalcut' i think have got it right, they offer Quicktime filter support, but also Adobe After Effects Plugin support (as for what plugins Cinestream should support, I don't know which format of plugin would be best, Premiere or After Effects, I take it they are slightly different plugin formats, it'd be nice to support both, but in the end Premiere plugins would possibly be of more use being that it is another video editing application). It would also be nice if Cinestream supported some type of 3rd party audio filter (I believe there are some available through the Adobe Premiere plugin format, but I have no personal knowledge as to how many there are), I don't know what the best sound filter format would be to support, but the one that seems most popular with 3rd party suppliers and which would fit as tightly with EditDV/Cinestream as possible would be the go). Why I think this is important is because it would free up your engineers to work on other aspects of the application rather than be distracted by the features the minority of users might want which could easily be filled by a 3rd party plugin application today (this includes things such as having vectorscopes and waveform monitors for output, advanced keying thru Ultimatte, film grain texturing thru Cinelook and advanced DVE effects thru Boris FX & Boris Red, etc, etc). Basically it means those of us who want a particular feature can pay for it ourselves if we need it bad enough. I know this requires licensing from Adobe (and whoever the audio plugin technology holder might be if you added 3rd part audio filter support), but I know that I for one would definitely be keen to pay a bit more for the software (in order to cover that licensing fee) in order to get access to Adobe After Effects filters (for example), within EditDV/Cinestream. Okay, I agree that opening the application up to 3rd party filters and plugins will mean that the application is only as reliable as the worst coded plugin on the system (I remember the problems some other applications have had with dodgy plugins pulling the whole system down), but as long as there is a disclaimer in the CineStream manual and maybe a list of plugins and which work well and which are buggy maybe maintained on the M100 Cinestream site (or even just on our user site), I say go for it, ...give people choice, those who don't want to risk a 3rd party plugin stuffing up the reliability of Cinestream need not install any additional plugins if they don't want to, just let those with the need have the choice to add to their system if they wish to.
Make Filter Linking Default. Have it so that when you out a filter onto the timeline that it automatically links to the clip you place the filter under (so if you drag it out under a number of clips, it'll still just be linked to the first clip in the sequence).This could be set up with an option such as the video & audio linking preference for those who don't wish this behavior to be used (altho I think most users would prefer it to work this way).
Tweak Titling. The titling tool as it stands is pretty good (indeed one of the best I have ever used, ...compared to Avid and Media100 at least), offering most of the features one requires for basic titling operations. There are a few things that should be addressed though in order to make it even better. First up, on the Mac, please rewrite it so that it does not use Quickdraw GFX, as this is an old system feature of Mac OS and is proving to be more and more unstable with new applications & revisions of the OS. Second is that it does not have a good interface for scrolls and crawls. Maybe you could adopt some sort of new titling screen (in some ways like Media100, opening a new screen view in which to work on which has multiple pages to the sides as well as above and below the screen area, in which to lay out your crawls and scrolls). Also it would be good if from in here you could import text for credits, etc, from the 3rd part word processor (it would be great if you could import raw text and a formatted style of text such as RTF or basic WORD format). It would be good if we could have TAB settings (user definable and working in much the same way a Word Processor does, i.e. Tab stops such as left, right, center, and maybe decimal align) in the Title window so that it makes making up scrolling credit style lists easier to lay out and format. The reasons for this become obvious as soon as you try movie-style credits.

Since the titler has no tab stops, this requires three separate title filters, one for the centered text, one for the right justified (left column) tex, and one for the left justified (right column) text. And of course, you have to keep them in sync as far as having the same number of lines and the same keyframe positions. And it basically renders dog-slow because of the need for three filters. A suggestion was made by one user that one very simple fix which would solve 95% of the need for fancy tab stops etc. If a title is centred, and contains a tab character, centre the tab character not the text. That is sufficient for all normal scrolling credits such as the above example. Don't put any tab in the top line. Add spaces to taste on each side of the tab in credit lines.

Change the scale/linearity on filter parameters. For many purposes, the only usable softness values are 0 and 1 on a scale of 1 to 100. Thresholds on Luma and Chroma key are a bit sudden.
Change Transition Preferences. Currently when you double CLICK on a transition you get presented with settings for controlling the look of the transition, and if you OPTION-CLICK on the transition you get the duration & cutpoint settings. Since about 80 to 90% of the time you are going to be using Dissolves and only wanting to set a new duration, it would make sense that when you double click on the clip you actually got the duration dialogue as default (for new users who don't know about the modifier key for bringing up the duration dialogue, it can be a real timewaster going through the contextual menu to get at the duration settings for each transition). How about having it so that when you double click on a clip it comes up with a window that combines all the settings, maybe tabbed so the first "page" is the duration window we have now and the other settings are tabbed in that window (just the way that filters such as PZR and TITLE have multiple tabbed "pages" in their settings dialogue window).
FX Window Previews Out LiveDV. I do not know if this could work easily or not (I guess it depends on how quick the image can be rendered and updated out the firewire port to the monitor, ...it would definitely have to be a preference setting, on or off, as I'm sure older computers would be bogged down by this feature). Have an option so that when in the FX window work area (adjusting filters of transitions), that the results that are usually just displayed in the small FX Monitor window, are also echoed automatically via LiveDV out through firewire to your attached video monitor (at the moment you have to hit the "snapshot" (1) key to send that frame out to the monitor via LiveDV, ...should be easy enough to set EditDV/CS to echo this automatically (as long as its not going to be painfully slow).
Pan & Scan - ability to rotate the crop box (keyframeable)
Garbage Matte. Ability to create a vector garbage matte (can use title tool for basic shapes already but its very very limited in its functionality). Perhaps you could implement a new filter so that the vector shape would be keyframeable just like any other filter, which would mean you could go down the timeline and
change the mattes shape and other settings over a period of time. Just asign one vector shape per filter so if people need more matte shapes they just add another filter on another FX track. See next item also.
Alpha Channel Mattes. Instead of creating garbage mattes in the way I have listed above, another option might be to create a way of using alpha channel mattes (ability to load still greyscale images and use them to key out a layer of video), maybe even take this a little further and implement RotoDVs blend layer settings into a filter, and allow you to paint onto the alpha channel with basic brush settings. Don't overload things in this area, ...we don't need all the paint features of RotoDV in Cinestream, it would just be bloatware, ...but the ability to use greyscale images as mattes or use vector garbage mattes as above would be handy for anyone doing any sort of multilayer work in Cinestream (including bluescreen work, etc).
Render Order Preference. Have a checkbox in each filter so that if you want it to render before the transition you can set it up that way (at the moment transitions by default are rendered BEFORE the filters (for some instances this can be an annoyance where the only work around is to use nesting from another comp).
Ability to copy and paste keyframes. Multiple paste feature with spacing and number of times.
Improve spline control of keyframes, perhaps Bezier Motion Paths, the ability in filters like Pan&Scan and PZR to draw/alter a bezier curve representing the motion path of the affected object/layer over time.
Ease in and ease out added to keyframing like Boris and After Effects.
Bevel control in PZR and PIP filters.
Better Colour Correction Tools. It would be nice to have adjustment filter based on curves, such as that in Adobe After Effects (with the ability to load in Photoshop curves to help adjust the footage). Support for 3rd party plugins would help in this regard too since then we could just use Adobe style plugins for doing this (the best colour correction plugin for the desktop is the new version of "Color Finesse" by Synthetic Aperture for After Effects, it would rock for users to be able to purchase that for use within EditDV/CineStream if they so wished, ...or even to be able to use the slightly less techo version of the same plugin thats available for Premiere).
Support For New Hardware. Dual Processor support on both platforms,Optimization for Altivec support for G4 Macs and for the new multimedia instruction sets of Intel & AMD chipsets on PC (for even faster rendering).
Mac OS X native version
Windows XP full compatibility with this new OS
Code optimization (yet another request for more speed, ...especially on intensive operations such as the new blur settings in the pan & scan filter)
Freeze Frame Display In V1 - as we know any clip whose speed has been changed (freeze, speedup, reverse, etc) plays as blank video from V1. You have to render it and play VP to see the result. That makes sense for the general case but maybe it can be altered for freeze frames so that they display in the video tracks?
Contextual Online Help - maybe have this as a preference if it is likely to drag down systems resources (so those who don't need it can switch it off). Helpful for looking up something in a hurry without having to drag out the paperbound manual.
Custom Keyboard as an Optional Extra. This is something that Discreet might have setup already for their other products, so maybe there could be a universal PC/Mac USB keyboard thats colour coded with relevant keys for EditDV/Cinestream? As another option could you maybe just sell key kits, ...a few manufacturers do this (e.g. Post Op Video's "EZ Keyboard" range), basically supplying new colour coded and printed keys that you replace your own keyboards keys with (easy task to do with a screwdriver)). If the current sticker configuration for overlays continues, can we have a couple of variations included in the Mac bundle of the application (as the current stickers are fine on older keyboards but not good on new keyboards or powerbooks, ...Finalcut comes with 2 sets, one with white icons and one black icons).

[ Learning Centre ] [ Troubleshooting ] [ Downloads ] [ Gallery ] [ Wishlist ] [ Links ] [ Email ]
© 2001, No One In Particular, Inc. This site is not affiliated with Autodesk Discreet .
Stealing from this site is prohibited unless you ask nicely.