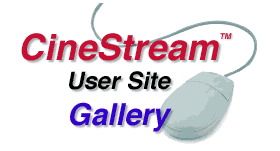 Below are links to various CineStream & EditDV user websites which show what can be done with the software. If you would like to add a link from this page to your site just email it through to me.

[ Learning Centre ] [ Troubleshooting ] [ Downloads ] [ Gallery ] [ Wishlist ] [ Links ] [ Email ]
© 2001, No One In Particular, Inc. This site is not affiliated with Autodesk Discreet .
Stealing from this site is prohibited unless you ask nicely.